I would love to do crafts with Brayden, but admittedly, I haven't found a lot that a 2 yr old can do other using crayons to color pictures. I've mentioned how much he loves water -- and with all the rain we've had we have a puddle of grand size at the end of our driveway. So what could be more perfect than having Brayden make a BOAT?? So hi ho hi ho, off to blog land I go, and I find one gem of a crafty blog called
Make and Takes
. Just take a look at this cute little boat!
A sponge, a straw and a bit of felt for the "sail" and we're in business. We're definitely going to be making this on Brayden's next visit on Wednesday (before the puddle disappears!). The web site has a great tutorial, though it's not a craft that needs a lot of instruction.
Of course, once I found the boat, I had to keep looking around her web site - and found LOTS more great tutorials of crafts perfect to do with Brayden, such as these great apple prints! How cute are these?? And what do you need? A paper plate, a napkin, an apple and some paint!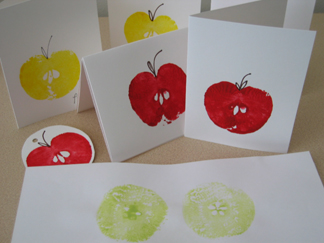 She has detailed step-by-step instructions on everything - whether it's a recipe, a pattern for a kid's no-sew fleece poncho, or crafts. Whether you're a Grandma, a Mommy, an Auntie, or anyone else that deals with kids, you'll want to check out Make and Takes.
Since we're on the subject of kids and crafts, another web site I frequent for craft ideas is Adventures in PreSchool. This crafty lady has wonderful ideas on games to play, teaching alphabets and numbers in a fun way, and more. I visit her blog religiously, but she has no email or blog comments, so I can't tell her how much I enjoy her ideas!
If you have any crafty blogs you visit with activities suitable for the 2-4 yr old crowd, please share! I'd love to have many activities lined up for rainy babysitting days.
Hopefully, Brayden and I will have pictures soon of crafts we've done!