On Tuesday I asked my daughter if Brayden had a Halloween costume -- he didn't. I offered to sew one for him. Of course, that was before he got sick and I had him Wed., Thurs., and Friday, since he couldn't go to his daycare when he was sick (nor would I want him to). And having a sick little one isn't very conducive to spending time sewing. So, as usual, I was down to a deadline to get a costume made for him before 5pm. Jeff took a vacation day and took Brayden to the local park for some (very easy) "hiking" in the woods and time at the playground. I headed straight for my sewing room. Brayden and I talked about what he wanted to be for Halloween. I gave him choices -- a kitty like Joey, a dog like Jack, a robot or Spiderman. He picked a kitty like Joey. (Actually, when Mary first asked him what he wanted to be for Halloween, he said, "Umma". LOL!) So I headed to our basement and found my mother-in-law's old faux fur coat (if you're bigger than a size 8 is there ANYthing more unflattering than a 3/4 length fur coat?!?) and a wire hanger (to give the "tail" form), then grabbed a black sweatshirt and sweat pants from Brayden's dresser (I keep extra clothes here for him) -- and off I went to the sewing room. Now, I'd love to show you just how adorable this little guy looked as a kitty -- but he wouldn't try the costume on! LOL He put on the ears and he put on the "paws" (mittens made from black felt with a strip of faux fur on the back), but then they were off and he wanted to go outside and play. Hopefully, my daughter is taking pictures of Brayden in his costume for me. If so, I'll add them in here for you to see. I'm SURE he was absolutely adorable. The outfit really was cute. Sigh sigh sigh... So because I don't have anything fun to write about, I'm going to turn to
Friday Fill-in's
.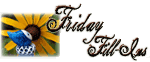 1. My favorite food seasoning is
fresh ground black pepper
. 2.
My husband's laughter
is music to my ears. 3. Lucky is
a state of mind
. 4.
Grandmothering
is something I take very seriously. 5. Many people
just don't get it
. 6.
Peanut Butter
was the last thing I bought at the store. 7. And as for the weekend, tonight I'm looking forward to
giving out candy
, tomorrow my plans include
cleaning up all that fur in my sewing room
and Sunday, I want to
go to the flea market again
!
As I'm writing this it is 7:45 pm. There are 15 minutes left for Trick or Treat. Every year we count how many kids come to our door. When my kids were little, we normally got between 150 and 175 kids. This year? Minus Three. How do you get minus three kids? Three kids and their parents came down our street -- and skipped our house. I'm about to go on the Internet to look for recipes that involve Skittles and Sugar Babies. Oh my gosh, I think I'm having a woe-is-me-night!